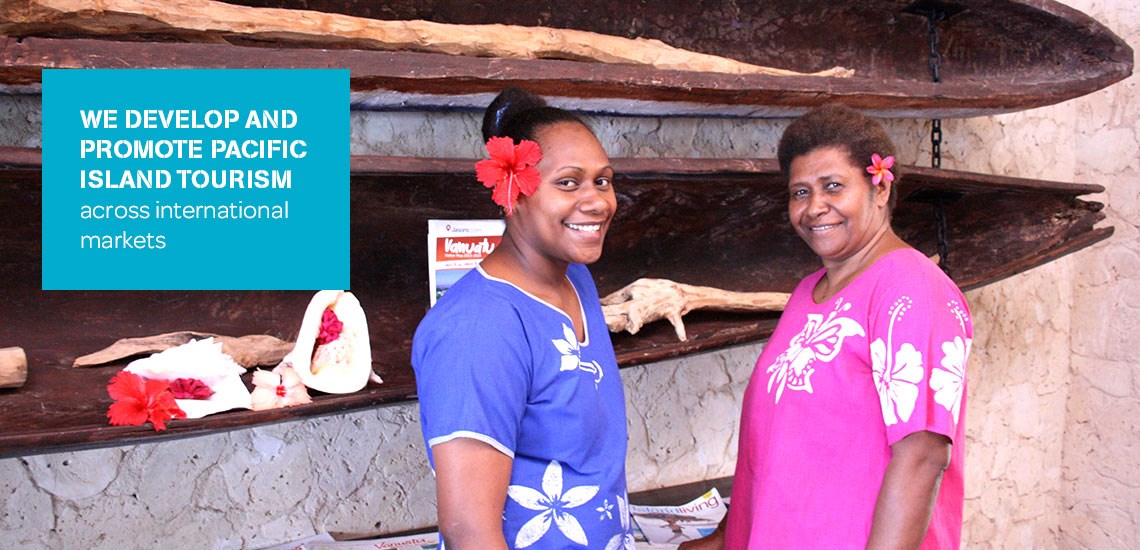 PT&I assists hotel and resort owners, tour operators and anyone working in the Pacific Island tourism industry
Our Tourism Promotion Program
The Tourism Promotion Program drives economic development leading to job creation through increase bookings. Our activities promote the 16 Forum Island Country's tourism offerings.
The Pacific Islands has much potential for growth and most tourism product is at the SMME level (often family run operations). These businesses are where women, youth and communities, find significant employment opportunities. We focus on working with these operators providing them with new opportunities for growth and success.
We do this by focusing on three key areas – building the online presence of tourism businesses through the digital tourism program, supporting international marketing campaigns, promoting tourism investment opportunities.

Digital Tourism Program
Through extensive experience in the region PT&I discovered that, despite tourism being one of the most important sources of income for Pacific Island countries, the vast majority of tourism providers (accommodation, tours and activities) were not connected to modern online sales systems.  This was resulting in massive amounts of lost opportunities and sales.

That's why we started the Digital Tourism Program through which we have built nearly 300 websites and generated more than AU$6.4 million in online bookings.

Training workshops are being held in countries throughout the Pacific Island region covering topics from instant booking capabilities, third party distribution, social marketing and outsourcing.

This is an ongoing program so register your interest for more information.
Partnering for success

PT&I is a proud sponsor of Treasures of the South Treasures of the South Pacific, a not for profit organisation comprising of the tourist bureaus from the countries of Cook Islands, Samoa, Vanuatu, Papua New Guinea, Tahiti, Solomon Islands, New Caledonia, and Norfolk Island.  PT&I sees great value in the support 'Treasures' provides to the travel industry. 
More of what we do for Pacific Island Tourism
We aim to assist all Pacific Island exporters and tourism is one of the region's most important service exports. Here are some of the ways in which we can work with you.
Connecting you with the travel industry
Promoting you in your target markets
Online marketing for your business
Develop your bookings capability
Workshops and special training
Branding development
Exhibitions and shows – links and expertise
Tourism business advice
Some Tourism Success Stories