Fiji cleared last COVID-19 patients
According to the report from FBC NEWS on 5 June, Fijian Prime Minister Voreqe Bainimarama has confirmed that Fiji has just cleared the last of our active COVID-19 patients.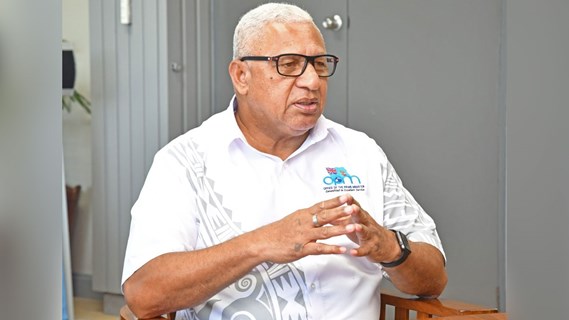 Bainimarama shared on his official twitter account that even with Fiji's testing numbers climbing by the day, it's now been 45 days since the country recorded its last case of coronavirus. He said that there have been no COVID-19 deaths and Fiji has recorded a 100 percent recovery rate through answered prayers, hard work, and affirmation of science.
Meanwhile, Fiji's Ministry of Health will continue to test regularly for the Coronavirus. Health Minister, Dr Ifereimi Waqainabete said they continue to test any and all suspected cases referred to them. He also noted that with the comprehensive testing mechanisms now available to them, the tests can be sensitive and is able to pick up any remnants of the virus.
Fiji initially had 18 cases of COVID-19, with all patients recovered. The last three active Coronavirus cases now recovered comprises of a 28 year old man, a 22-year-old woman and a 12-year girl, all of whom are residents of Suva.
SOURCE: FBC NEWS
https://www.fbcnews.com.fj/news/covid-19/fiji-clears-last-covid-19-patients/
Cook Islands border begins to open
According to the article released by COOK ISLANDS NEWS on 5 June, Prime Minister Henry Puna announced on 4 June night that Cook Islands will reopen its borders to Cook Islanders and work permit holders in two weeks. Cook Islanders and work permit holders who have been in New Zealand for the past 30 days and want to return home, or take up or resume employment, will be eligible with no need to go into quarantine.
In an interview with New Zealand's Newshub, Puna noted that there was no community transmission in New Zealand, meaning there was no risk and Cook Islands should be treated a bit like a domestic flight. He also said they were working alongside New Zealand officials to set in place travel opportunities for other New Zealand citizens in the near future.
Tourism and business operators are hailing that as a step in the right direction – and especially welcome Henry Puna's further hope to reopen to all Kiwi tourists when New Zealand lowers its lockdown status to level 1.
Puna also said "We look forward to positive collaboration with the community, our private sector partners and agencies in the weeks ahead, as we determine how best to restore and reinvigorate, our social and economic well-being,"
SOURCE: COOK ISLANDS NEWS
http://www.cookislandsnews.com/national/local/item/77260-border-begins-to-open
13 orders on PNG SOE extension
According to news released by PACNEWS on 4 June, thirteen new State of Emergency (SOE) orders have been issued in Papua New Guinea as SOE is extended for two weeks. There have only been eight official cases of COVID-19 to date in PNG, six mild and two resulting in hospitalisation.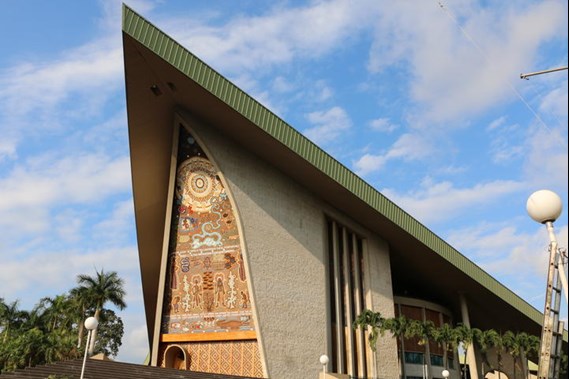 State of Emergency Controller and Police Commissioner David Manning told The National that the orders include the lifting of curfews, roadblocks and public gatherings. It also includes the extension of the ban on nightclubs, gambling, betting shops and the sale of alcohol on weekends.
Manning said they were drafting a Public Health Bill for Parliament to approve.
"This is basically to enforce the new normal which will include things like the Wash (water, sanitation and hygiene) programme, social distancing in schools, workplaces and in public transport vehicles," he said. "The new normal will also place more emphasis on personal hygiene to stop transmission in communities, because as long as the COVID-19 (exists), it still poses a threat to the country."
SOURCE: THE NATIONAL/PACNEWS
http://www.pina.com.fj/index.php?p=pacnews&m=read&o=481551825ed85a6e07bd35dce38d03
The second batch of supplies to Fiji arrived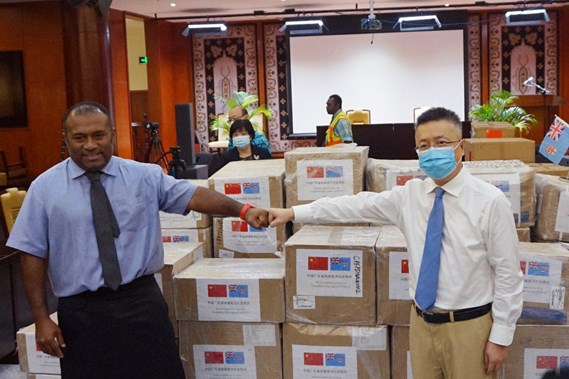 According to the reported posted by Chinese Embassy in Fiji on 3 June, Qian Bo, Chinese Ambassador to Fiji, Ifereimi Waqainabete, Minister of Health of Fiji, attended the handover ceremony of the second batch of medical supplies of Chinese government assistance to Fiji and Guangdong Province's aid to Fiji in combating COVID-19 pandemic on 1 June, and signed the certificate of handover on behalf of the two governments. The supplies include the Nucleic Acid Detection Kit, medical masks, medical surgical masks, disposable medical protective clothing, disposable sterile rubber surgical gloves, etc.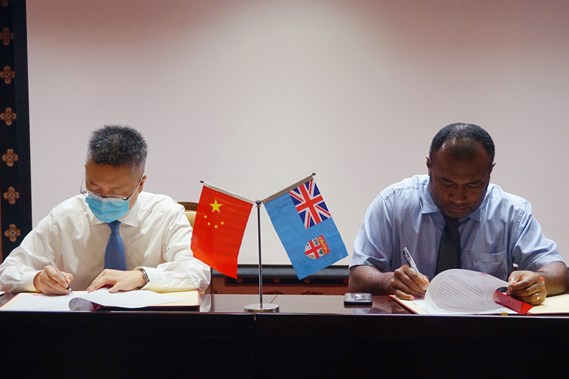 Ambassador Qian said that the Chinese Government and the Guangdong Provincial Government will use charter flights to provide Fiji with medical supplies and gradually continue to support Fiji to better fight the epidemic. China recognizes that the Fiji government has taken effective measures to effectively control the epidemic, and is willing to continue to strengthen cooperation with Fiji in combating the epidemic, including the exchange of technology and experience, and provide support and assistance within its capacity. China is also willing to strengthen cooperation with Fiji in economic and trade investment, tourism and other fields to help Fiji restore the economy after the epidemic. China believes that we will jointly overcome the epidemic.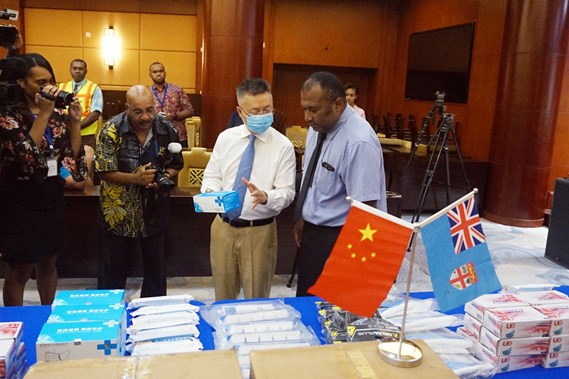 Minister Wakainabate said that in the context of the current epidemic becoming a "new normal", the needs for the second and third waves of prevention and control of Fiji are particularly urgent. Fiji thanks China for continuing to support Fiji's anti-epidemic disease in various forms over the past few months, and be deeply grateful for the new supplies provided by the Chinese government and the Guangdong provincial government in a timely manner, which provided a strong guarantee for the Fiji health department and other Fijian workers who are struggling on the front line of anti-epidemic, which greatly encouraged Fiji to overcome the epidemic.
SOURCE: Chinese Embassy in Fiji
http://fj.chineseembassy.org/chn/xw/t1785670.htm
Fiji will support SMEs by concessional policies
According to report from FBC NEWS on 2 June, Fijian Prime Minister Voreqe Baimamarama said while opening the new Rakiraki market that the country has no new COVID-19 cases in the last 42 days. Fiji government's decisive public health response had spared Fiji from much of the historic human suffering we're seeing around the world.
"COVID-19 is more than a health issue; it is a global economic crisis that is affecting Fijian industries, businesses, and livelihoods more seriously than any single cyclone or, indeed, anything else we've seen in our independent history."
"As fierce as these headwinds may be, we cannot allow ourselves to be blown off course from the nation that we're working together to build, side-by-side. Our progress must press onwards. In the face of this latest crisis, our support for our vulnerable must strengthen. " He said.
"That is why, from next week, we'll be commencing generous concessional loans to micro, small and medium enterprises, helping business owners not only make it through COVID-19, but find new opportunity in this crisis. 
Meanwhile, Fiji's Health Ministry continues to conduct random testing on workers who are at the frontline of COVID-19 pandemic. So far no health personnel has contracted the virus. Fiji will also continue to test Fijians who have pneumonia or severe respiratory symptoms including those who have completed their 14th day of quarantine.
Fiji's global fight against the coronavirus continues.
SOURCE: PACNEWS/FBC NEWS
http://www.pina.com.fj/index.php?p=pacnews&m=read&o=10996911965ed6d55a8e47b206ee5d
The second case in New Caledonia in a week
According to the report from RNZ PACIFIC on 2 June, A French police officer in New Caledonia has tested positive for Covid-19 - the second case recorded in the past week.
The officer, who was part of a squad flown in from France on 19 May, was transferred to the isolation unit at the hospital. The government said the squad had tested negative before leaving France. The officer who had shared a room with the infected person was being isolated.
The country has recorded 20 Covid-19 cases which were all imported.
All arrivals in New Caledonia have to isolate for two weeks in designated accommodation and then self-isolate for another week. The border remains closed except for repatriation flights for stranded residents and for some French personnel.
New Caledonia's international airline is not expected to resume services before August.
SOURCE: RNZ PACIFIC/PACNEWS
http://www.pina.com.fj/index.php?p=pacnews&m=read&o=18078780575ed6cfd64c91ad8c9703
Palau prepares to bring home stranded citizens
According to the article published by PACNEWS, Palau is one of a handful of countries globally with zero cases of coronavirus. Having closed its borders on 22 March, the country has grappled with how to bring home its citizens, trapped abroad, particularly in the US, without importing the virus.
For 143 Palau citizens trapped overseas by coronavirus travel restrictions, the journey home, always long, will be especially tortuous. To reach their Pacific island home they face six long weeks of quarantine - two in Guam, two in a hotel in Palau, and then another two weeks of self-isolation at home. They will also face at least five COVID-19 tests.
SOURCE: PACNEWS
http://www.pina.com.fj/index.php?p=pacnews&m=read&o=3377287185ed5ad061df0ee364d1a4