COVID-19 UPDATES 7 August
COVID-19 News Updates 07.08.2020
| | | |
| --- | --- | --- |
| Country | CasesConfirmed | Deaths |
| French Polynesia | 64 (62 recovered) | 0 |
| Fiji | 27 (18 recovered) | 1 |
| New Caledonia | 22 (22 recovered) | 0 |
| Papua New Guinea | 163 (53 recovered) | 3 |
| Samoa | 0 | 0 |
| Vanuatu | 0 | 0 |
| Cook Islands | 0 | 0 |
| Tonga | 0 | 0 |
| Solomon Islands | 0 | 0 |
| Niue | 0 | 0 |
| Kiribati | 0 | 0 |
| FSM | 0 | 0 |
| Palau | 0 | 0 |
| Tuvalu | 0 | 0 |
| Marshall Islands | 0 | 0 |
| Nauru | 0 | 0 |

Note: The above data is sourced from the official website of the Western Pacific Region of the World Health Organization. It may update untimely or inconsistency with the relevant data in the article sourced from local news. 
https://who.maps.arcgis.com/apps/opsdashboard/index.html#/345dfdc82b5c4f6a815f1d54a05d18ec
Delivering vital medical supplies, humanitarian air service boosts COVID-19 response efforts in the Pacific

According to an article released by Pacific Islands Forum Secretariat on 6 August, countries and territories of the Pacific Islands and the United Nations World Food Programme (WFP) reached a milestone with the launch of the humanitarian air service in the region.
The first flight, from Nadi, Fiji to Port Moresby, Papua New Guinea, completed Thursday, delivered 44 cubic metres of essential medical supplies that will be used in the Government of Papua New Guinea's response to COVID-19.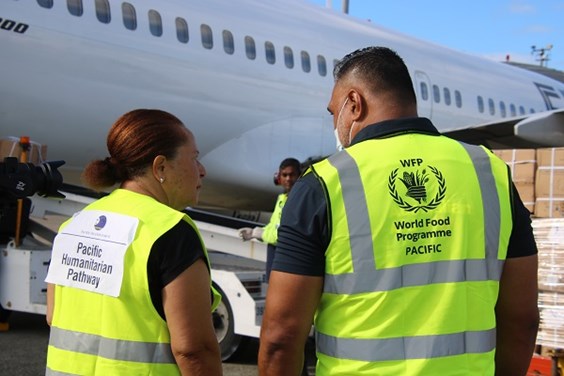 The supplies, including protective masks, suits and gloves, thermometers, and ventilators were transported on behalf of the Pacific Islands Forum, in support of the Pacific Humanitarian Pathway on COVID-19 – a regional coordination platform established by the 18 countries of the Forum to facilitate timely and rapid movement of medical and humanitarian assistance across the region.
"The humanitarian air service flights are a welcome demonstration that the Pacific Humanitarian Pathway on COVID-19 is doing what leaders intended – protecting citizens and supporting health systems," said Dame Meg Taylor, Pacific Islands Forum Secretary General.
"We welcome continued partnership and support as the Pathway provides a mechanism led by and for Pacific nations to help meet their needs while respecting COVID-19 border shutdowns, special entry protocols and safety for our Pacific nations."
The closure of airports and grounding of aircrafts as a result of COVID-19 prevention measures has dramatically reduced commercial air services, placing stress on the region's supply chains and making it increasingly challenging for humanitarian and health organisations to get vital supplies and personnel to where they are needed most.
"For the countries and territories of the Pacific islands, air and sea transport is nothing short of a lifeline," said Jo Pilgrim, Director of WFP Pacific Multi-Country Office. "WFP is proud to be working with Pacific Island governments and humanitarian partners to restore certainty to the supply chain and ensure the delivery of urgently-required medical supplies to the frontlines of the pandemic. I would like to thank our donors, including the Government of Australia for their continued support to WFP's operations in the Pacific, and for making this air service a reality."
The Pacific humanitarian air service is part of the greater Pacific Humanitarian Team COVID-19 Response Plan – a comprehensive regional response plan that seeks to consolidate efforts by UN agencies, governments, regional and multilateral organisations, NGOs, donors and development partners.
SOURCE: Pacific Islands Forum Secretariat
https://www.forumsec.org/2020/08/06/delivering-vital-medical-supplies-humanitarian-air-service-boosts-covid-19-response-efforts-in-the-pacific/
One more COVID-19 death in PNG, 10 new confirmed cases total now 163 
One more Papua New Guinean died from COVID-19 Thursday bringing the total number of COVID-19 deaths to three. 10 confirmed COVID-19 cases including the deceased bringing Papua New Guinea's total cases to 163 said the Controller of the National Pandemic Response David Manning on 7 August. Of those 10 new cases, one was in the Southern Highlands, four from Tabubil in the Western Province and the rest in the National Capital District.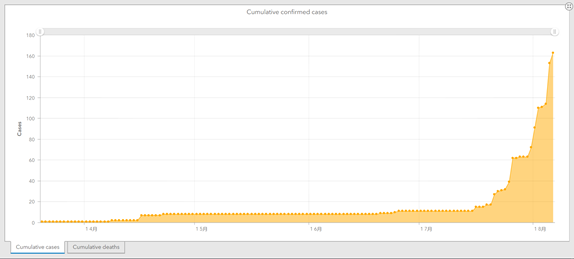 In the past week:
39 new coronavirus cases on 5 August bringing the total number of infections to 153,. Of those 39 new cases, two tested positive in Western Province, one in West Sepik Province and 37 in the National Capital District.
3 new coronavirus cases on 4 August bringing the total number of infections to 114. Out of the three newly confirmed cases, one tested positive in Kiunga, Western Province, while two tested positive in NCD. PNG also released 11 new control measures as of 4 August.
1 new coronavirus case tested positive in NCD on 3 August bringing the total number of infections to 114.
19 new coronavirus cases tested positive on 2 August bringing the total number of infections to 110. Of those 19 new cases, 18 are from Port Moresby while 1 from Lae.
19 new coronavirus cases tested positive on 1 August bringing the total number to 91.
5 new coronavirus cases tested positive on 31 July bringing the total number to 72.
There are currently 34 inpatients at Rita Flynn courts, two are moderate and rest are mild. In addition there are five patients all in moderate condition at the Port Moresby General Hospital.
Manning said, "To date we have tested 10,808 persons for COVID-19. Of this 10,351 results have come back with 163 confirmed cases. The balance of 350 tests is pending laboratory results. The number of active COVID-19 cases is 109. The total discharges to date is 53.
"COVID-19 has now affected seven out of the 22 PNG provinces. We will not know its full extent until we ramp up the tests and samplings around and throughout the country.

SOURCE: PNG Government
https://covid19.info.gov.pg/index.php/2020/08/06/one-more-covid-19-death-in-png/
Relevant News:
PNG records a new daily record of 39 new coronavirus cases, total 153
https://covid19.info.gov.pg/index.php/2020/08/05/png-confirms-39-new-coronavirus-cases-today/
Three persons tested positive today for COVID-19 in the latest GeneXpert testing in the country
https://covid19.info.gov.pg/index.php/2020/08/05/controller-issues-new-covid-19-control-measures/
PNG has recorded 19 more COVID-19 cases on 2 August, bringing the total number of confirmed cases to 110.
https://covid19.info.gov.pg/index.php/2020/08/02/papua-new-guinea-records-110-covid-19-cases/
or https://news.pngfacts.com/2020/08/png-covid-19-confirmed-cases-pass-100.html
19 confirmed cases will be monitored at the Rita Flynn Isolation Centre
https://covid19.info.gov.pg/index.php/2020/08/01/controllers-press-statement/
or https://news.pngfacts.com/2020/08/covid-19-confirmed-cases-in-png-rise-to.html
PNG has recorded 72 confirmed cases.
https://covid19.info.gov.pg/index.php/2020/07/31/png-records-72-cases-of-covid-19/
The 11 new Control Measures come into effect as of 4 August 2020.
https://covid19.info.gov.pg/index.php/2020/08/05/controller-issues-new-covid-19-control-measures/
COVID-19 at PNG Central Public Health Laboratory cause identified
According to news released by PACNEWS on 4 August, Papua New Guinea Prime Minister James Marape has revealed that the breach in the safety of the Central Public Health Laboratory (CPHL) staff, was when a driver was not fully protected.
He said all staff were protected and given Personal Protective Equipment except the driver who did not have his mask on. The driver was declared positive and contact tracing revealed more cases at the Central Public Health Laboratory in NCD. Marape said he was informed of this, following an inquiry into how the staff got infected in the first place.
"We did a little bit of search into what happened there and from information that I am getting at my level, they [CPHL staff] were equipped with PPE's but one of them had contact with the driver who was not masked or properly equipped and from that contact with that driver who became positive also, has spread onto the four who were working inside. So that is a classical indication of community transmission prevalence in Port Moresby," PM Marape said.
The CPHL outbreak led to the first thirty COVID-cases in NCD, with many other family members and contacts traced and found to be positive as well.
The lab was fumigated and decontaminated, with staff resuming duties Monday.
SOURCE: PACNEWS
http://www.pina.com.fj/index.php?p=pacnews&m=read&o=20361725675f29eeab88a3c8c2b0a6
Suspected Covid-19 case on cruise ship in Tahiti
A cruise ship in French Polynesia has returned to port in Papeete after a passenger tested Covid-19 positive.
On 2 August, the 148 passengers on the Paul Gauguin were asked to stay in their cabins and the ship bound for Rangiroa returned to Tahiti.
The French High Commission said testing of the travellers and the 192 crew on board had begun on Monday morning.
The passenger, whose self-test returned a positive result, was taken off the ship and reports said staff who were closest to that person had now been given a test.
Before its change of itinerary, the Paul Gauguin had been anchored off Bora Bora for two days to give passengers the opportunity for on-shore experiences.
An investigation has been launched into the contacts of the person.
Cruises resumed two weeks ago, with the first journey by the Paul Gauguin open to locals only.
In mid-July, French Polynesia became the first destination in the South Pacific to accept travellers without imposing any quarantine.
All arriving airline passengers have to prove that they are Covid-19 free three days before departure and self-test for the coronavirus four days after landing in Tahiti.
Source:RNZ NEWS
https://www.rnz.co.nz/international/pacific-news/422613/suspected-covid-19-case-on-cruise-ship-in-tahiti
Vanuatu will still graduate from LDC status this year
Despite the challenges of natural disasters and COVID-19, Vanuatu will still graduate from the Least Developed Countries (LDC) to the Developing Country status on 4 December this year.
Prime Minister (PM), Bob Loughman, confirmed this on Independence Day.
The graduation is a positive sign that Vanuatu as an independent nation is progressing in development that can meet citizens' needs. The graduation will also show the world of Vanuatu's potential of advancing to achieve its development goals and visions, he said.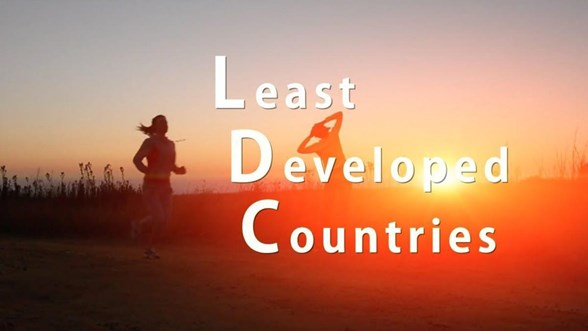 "We will work hard to adopt a route of sustainable, resilient and inclusive development which will not place our serene green and blue environment at risk but to ensure that we can meet our children's needs tomorrow," PM Loughman said.
SOURCE: VANUATU DAILY POST
https://dailypost.vu/news/vanuatu-will-still-graduate-from-ldc-status-this-year/article_8165666e-d5d2-11ea-86f6-33049f42a130.html