COVID-19 Updates 16 Apirl
China donates medical supplies to Vanuatu
According to article released by VANUATU DAILY POST on 14 April, Vanuatu caretaker Prime Minister Charlot Salwai has acknowledged China for responding positively to Vanuatu's request to provide the necessary supplies and equipment, in order to support its health system in case there are confirmed cases of COVID-19.
Salwai said "The major hospitals in Vanuatu and other rural hospitals do not have any medical supplies and equipment to treat any confirmed cases. The People's Republic of China has positively kindly responded to the government's request and hence the medical supplies and equipment arrived on Saturday 11th April 2020. "
The Vanuatu Government wishes to assure the people of Vanuatu that these medical supplies and equipment are urgently needed for any rapid testing and treatment of any covid-19 confirmed cases. Once these supplies was treated will be utilized to their full capacities.
"Strict border control protocols have been developed and agreed on the handling, uploading, unloading and treatment of the supplies and equipment prior and after arrival of the supplies."
In conclusion, he added, "As Caretaker Prime Minister I would like to express our appreciation to the people and government of China for their quick response to our appeal. I wish to conclude that simple preventative measures such as regularly washing hands with soap and applying sanitizers which encouraged by Ministry of Health and implemented through the SoE Directives should continue to be applied. These preventative measures are equally important to any medical supplies and equipment received through our friends from China."
People's Republic of China Donates Medical Supplies & $100,000 to the FSM
According to news of FSM Information Services on 14 April, The Honorable Livingston A. Taulung, Secretary of the Federated States of Micronesia's (FSM) Department of Health & Social Affairs and Chair of the COVID-19 Task Force, received His Excellency Huang Zheng, Ambassador of the People's Republic of China (China) in a handover ceremony wherein the Ambassador presented, on behalf of the people and Government of China, medical supplies and a cash donation of one-hundred thousand dollars ($100,000) to assist the FSM in combatting the COVID-19 Pandemic. Ambassador Huang noted that he is working hard to acquire a second shipment of medical supplies, to include ventilators, for the FSM.
Nauru remains coronavirus-free
PACNEWS released the news on 13 April that due to the decisive and proactive actions of the Nauru Government, its 'capture & contain' strategy continues to succeed in its goal to keep Nauru COVID-19 free.

Over the last two weeks, a total of four quarantined residents registered fevers and were subsequently moved from the transit stations after arriving on Nauru for further observation as their samples were sent away for testing in Australia. All results have returned negative.
Two COVID-19 testing machines are now on island; testing kits are due any day, and online virtual training will prepare health staff in their operation, delivering test results within days, not weeks.
From the very beginning of the COVID-19 outbreak and throughout, the Government of Nauru has not been complacent but prepared, organised and strategic in its approach, seeking expertise, making informed decisions and putting in place regulatory measures using preexisting legislation, to maintain a country free from COVID-19.
For the full text, please click:
http://www.pina.com.fj/index.php?p=pacnews&m=read&o=16124348825e9396336860230ebfa9
China donate 47 vehicles to Fiji Military
Fiji's Minister for Defence, National Security and Foreign Affairs, Inia Seruiratu, officiated the handing of 47 vehicles from the Chinese Government on 7 April, to handle with the recovery from Cyclone Harold and fight against COVID-19. The 47 vehicles handed over includes three off-road ambulances, and an off-road water tanker which will assist the RFMF during deployment.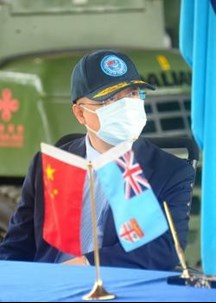 Qian Bo, Chinese Ambassador to Fiji, said that the co-operation between the two nations contributes to the capacity building of the RFMF which is critical for natural disaster relief and humanitarian aid in the country.
For the full text, please clcik:
http://www.pina.com.fj/index.php?p=pacnews&m=read&o=9105035715e8d5fcd77e4095797ee7
Conditions to lifting of Suva lockdown: Fiji PM Bainimarama
According to article released by FBC NEWS on 14 April, Fijian Prime Minister Voreqe Bainimarama said in a national address last week that the health teams must screened over 150,000 people in the Suva confined area before he will consider relaxing the restrictions on movement. He is urging Fijians to cooperate with the mobile screening teams as it takes only a few moments to have your temperature checked. He highlighted that visiting a fever clinic is easy and painless. The medical workers at these clinics will be able to tell Fijians if they need further testing, whether that's for COVID, or other viruses like the common cold, flu or dengue.
Of the 649 COVID-19 tests to date, the total confirmed cases continue to stand 16, and all of these patients in stable condition. In addition to the mobile screening teams, fever clinics across the country have seen over 5,000 men, women and children come in to get a check-up.
"We acted early to squash the spread of the virus. We shut our borders to high-risk countries. We closed nightclubs, gyms, swimming pools and extended school holidays. A stay-at-home order is in place unless Fijians have life-sustaining reasons to travel. We have a nationwide curfew in effect from 8pm to 5am".
He said some countries thought they had the virus under control and went so far as to relax restrictions, but sadly they've seen case numbers flare back up. He stressed Fiji cannot risk those same mistakes.
For the full text, please copy the link to browser:
http://www.pina.com.fj/index.php?p=pacnews&m=read&o=17487519135e9632d09f096940d7e5