COVID-19 News Updates 03.07.2020
| | | |
| --- | --- | --- |
| Country | CasesConfirmed | Deaths |
| French Polynesia | 62 (60 recovered) | 0 |
| Fiji | 18 (18 recovered) | 0 |
| New Caledonia | 21 (21 recovered) | 0 |
| Papua New Guinea | 11 (8 recovered) | 0 |
| Samoa | 0 | 0 |
| Vanuatu | 0 | 0 |
| Cook Islands | 0 | 0 |
| Tonga | 0 | 0 |
| Solomon Islands | 0 | 0 |
| Niue | 0 | 0 |
| Kiribati | 0 | 0 |
| FSM | 0 | 0 |
| Palau | 0 | 0 |
| Tuvalu | 0 | 0 |
| Marshall Islands | 0 | 0 |
| Nauru | 0 | 0 |
Air Vanuatu's First Outbound Repatriation Flight
Air Vanuatu announced on 2 July it will operate its first outbound repatriation flight on 3 July, the airline is returning nine French Nationals from Port Vila to Noumea.
Acting Chief Executive Officer, Joseph Laloyer says, this is their first international passenger flight since Air Vanuatu temporarily suspended all its international services on 23 March 2020 with the closure of Vanuatu's borders.

Mr Laloyer says they are very appreciative to friends at the French Embassy for trusting Vanuatu's national airline on this service. It is a positive step on the road to our international aviation recovery, he said.
No passengers are expected for uplift on the return leg.
The next cargo flight to Noumea is scheduled on Friday, July 24, 2020.
Source: Vanuatu Daily Post
https://dailypost.vu/news/air-vanuatu-s-first-outbound-repatriation-flight/article_adf5aa42-bbe5-11ea-bd62-d33b0f4bcd73.html
Fiji's COVID-19 testing can be trusted: Dr Waqainabete
According to news released by FBC NEWS on 2 July, Fiji's COVID-19 testing can be trusted as it is done according to the World Health Organisation recommendation says Minister for Health and Medical Services Dr Ifereimi Waqainabete.
Minister for Health and Medical Services Dr Ifereimi Waqainabete [middle] with the Covid IMT team in Korovou Hospital
Dr Waqainabete is responding to reports that claim Fiji's testing is vague and that testing data does not reflect the actual COVID-19 testing results but that of temperature testing.
He says when health authorities say COVID-19 testing in Fiji, it means they actually doing testing based on the WHO recommended testing. There are two WHO recommended COVID-19 emergency tests which are being used worldwide - the molecular diagnostic testing and the serological testing.
The molecular diagnostic testing (RT-PCR) helps to identify those individuals who are infected at the time of the test.
The serologic testing detects people who have had a prior infection and thus developed antibodies.
Dr Waqainabete says the initial 19 COVID-19 samples in the country were sent to Melbourne for testing and the rest of the over 4,000 tests that followed were then done at the Fiji Center for Disease Control in Tamavua.
He added, many countries do not have the mechanisms of testing that Fiji has.
The Health Minister also stresses that apart from testing, they also undertake thermal screening which all countries do at the airports and there is yet to be a country that conducts COVID-19 test upon arrival at the airport.
Dr Waqainabete says another layer of the preventative measures they have taken include contact tracing through the use of an app. And all the data on the COVID-19 tests are available for public viewing on the Ministry of Health website.
SOURCE: FBC NEWS
https://www.fbcnews.com.fj/news/health/fijis-covid-19-testing-can-be-trusted-dr-waqainabete/
Pacific Humanitarian Pathway on COVID-19 Continues Delivery of Medical Supplies
According to news released by PIFS HQ on 30 June, the Pacific Humanitarian Pathway on COVID-19 (PHP-C), continues to coordinate consignments of medical support to Forum Island Countries with medical supplies donated by the Jack Ma Foundation received in Fiji, French Polynesia and Papua New Guinea.
Secretary General of the Pacific Island Forum, Dame Meg Taylor said, "the evolution of the PHP-C and its role in the receipt, distribution and coordination of essential medical supplies to their final destinations is fulfilling the vision of Forum Members when they agreed solutions to the challenges posed by COVID-19. Forum Countries continue to effectively respond to the challenges of COVID-19 at the domestic and regional levels, the benefits of which are being realized every day as COVID-19 cases in the region continue to drop".
Secretary General Taylor stressed that despite Forum Members' successes in flattening the curve, it was not a time for the region to become complacent, hence the urgency of medical supply consignments to support Forum Members that have COVID-19 cases.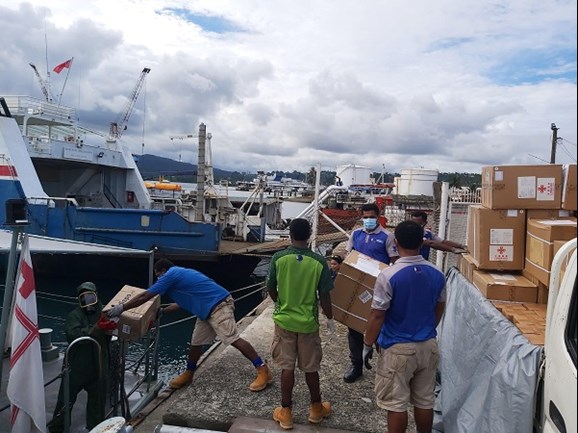 Pacific Islands Forum Secretariat staff assist in the loading of consignment packages containing PPE items.
Fiji, French Polynesia, and New Caledonia are each receiving 50,000 face masks, 10,000 medical gloves, 2,000 protective suits, 30 forehead thermometers, and 3 ventilators. A repatriation flight for Papua New Guinea citizens in Fiji on Friday 5 June 2020 returned to Papua New Guinea with 225,000 N95 and surgical masks, 45,000 medical gloves, 9,000 protective suits, 135 forehead thermometers, 14 ventilators, and 9,000 face shields donated by the Jack Ma Foundation. The consignments are considerable noting the global shortage of Personal Protective Equipment.
"It is crucial that all citizens of the Forum are able to protect themselves from COVID-19, particularly those that are most vulnerable to the health, social and the economic effects of the disease. Consistent with the good governance principles the Forum holds dear, I thank Forum Members for being transparent in their receipt and allocation of all medical supply donations and procurements, Accountability during times of crisis is arguably even more important to ensure fair, inclusive and considered decision-making", said the Secretary General.
The 18 Leaders of the Pacific Islands Forum have recognized COVID-19 as a major crisis and have invoked the Biketawa Declaration to collectively respond to COVID-19, as one Blue Pacific family. The Pacific Humanitarian Pathway on COVID-19 was launched by the Pacific Forum Foreign Ministers on April 7th, 2020.
Source: PIFS
https://www.forumsec.org/2020/06/30/pacific-humanitarian-pathway-on-covid-19-continues-delivery-of-medical-supplies/
PNG 11th positive Covid-19 case announced
According to POST COURIER's report on 26 June, Papua New Guinea has confirmed the 11th positive case of Covid-19 after aggressive contact tracing and a step up in targeted testing.
Case 11 is a 26-year-old female who resides in Port Moresby and is a close contact of Case 10. Now Case 11 is doing well and is being monitored by the trained staff at Rita Flynn.The result was returned from the CPHL Laboratory in Port Moresby at 7:30 pm on 25 June 2020.
The source of infection for all recent cases is still under investigation.
SOURCE: POST COURIER
https://postcourier.com.pg/11th-positive-covid-19-case-announced/
Niue is still far away from reopening borders: Niue Premier
According to TV NIUE's report on 25 June, there is no definite timeline as to when Niue will reopen its borders.
Prior to the General Election, the then Cabinet had decided that the borders would reopen by August. However, the Premier Dalton Tagelagi has told the Legislative Assembly that Niue is "still far away from reopening borders".
Niue is one of the few countries that are COVID – 19 free and has never recorded a case.
"We are well aware, the unpredicted impact of Covid19 on our economy is vast, drastic, and extremely challenging. The threat is real and the risks in our country cannot be compromised with subjective complacency. We are still far away from reopening our borders yet, I am sorry. "
"Of utmost priority, my fervent hope is that once we are extremely sure of our borders regaining safe status from COVID19, we can cautiously reopen the air links between our two countries. I am conscious of the fact, however, Niue has a delicate population and we must be very sure in our calculated decision not to take the unnecessary risk for commercial gain over our national security interest and well-being of our people.
Niue is currently on code blue measures which focuses on delaying the entry of the disease through handwashing, cough etiquette, and social distancing. Minimal disruption to society such as travel advisories and restrictions and reducing business as usual.
Passengers traveling to Niue may now include all Niueans who reside in New Zealand; essential workers including diplomats, skilled workers, and special cases such as immediate family members of residents; and those who require urgent travel to Niue or emergency cases.
According to the last release by the National Disaster Management Office which deals with the Covid response, the limit of 26 passengers per fortnightly flight remains in place until August 2020.
From 29 June 2020, all passengers arriving in Niue will continue to be placed in mandatory quarantine for 14 days unless they can demonstrate that they qualify for managed self-isolation.
SOURCE: TV NIUE
https://tvniue.com/2020/06/we-are-still-far-away-from-reopening-our-borders-yet-i-am-sorry-premier/
Niue Government highlights financial obligations are being met despite cash flow challenges
According to TV NIUE's report on 1 July, Premier and Minister for Finance and Planning Hon. Dalton Tagelagi told the Assembly last week that vigilant financial management and prudent decision making is essential for the transition or cut off period leading to the new financial year.
He said government will ensure that the ongoing financial obligations for fuel, priority road maintenance, health supplies, salaries, and pensions are being met. He has also asked for support towards local businesses and hold back on big items from overseas till government is financially stable.
…
SOURCE: TV NIUE
https://tvniue.com/2020/07/the-government-highlights-financial-obligations-are-being-met-despite-cash-flow-challenges/
Papua New guinea assures financial support for SME Sector during pandemic
According to Papua New Guinea Government's news release on 27 June, the Prime Minister, Hon. James Marape, has assured small to medium enterprises (SMEs) of Government support going forward despite the impacts of Coronavirus (COVID-19) pandemic on the PNG economy. He said this when addressing the 2nd PNG SME Breakfast with the theme: COVID-19 and the Way Forward for PNG in Port Moresby on 26 June.
Prime Minister Marape said the Government values its contributions and is fully supportive of the SME sector that has fuelled the large businesses in the economy.
"The SMEs with considerably lower investment cost than large businesses help fuel the economy and lower poverty in communities by offering meaningful employment to locals.
"The Government will support the local SMEs to ensure PNG truly creates its own class of innovative wealthy entrepreneurs who contribute to our economy.
"COVID-19 has affected businesses including major industries like shipping, mining, aviation, and the supply chain and PNG SME is no different.
Prime Minister Marape said the Government will partner with the local financial institutions by putting money in the banks where SMEs could borrow to fund their businesses.
"We will be having discussions with the commercial banks to put some money so SME owners can borrow to help fund their businesses.
"At this juncture, I want to thank the Bank South Pacific (BSP) and others like the National Development Bank (NDB) and Kina Bank who have shown their willingness to help us partner into this sector. BSP has indicated a 5 per cent lending rate with a 15-year repayment period, whilst Kina Bank and NDB with a 4.7 per cent and 4 per cent for 20 years respectively," he said.
The Prime Minister said the Government through its budgetary processes will put some money into the banks and make it accessible by SMEs to apply as loans and repay at very concessional lending rates to start their little businesses and generate income activities
.…
"I urge everyone and SMEs out there to go into agriculture and produce goods that will help propel our local economy and the export sector," said Prime Minister Marape.
He also urged citizens to go into agriculture and plough your land and earn some money by selling and as Government will try to help create markets in your provinces and districts.
On a positive note, Prime Minister Marape said COVID-19 also presents PNG the opportunity to be innovative where SMEs are capable of producing locally.
"Instead of relying on foreign goods, the SME sector, I am told is leading the way in local production of basic daily goods like soap, butter, protein, honey, coffee and even our own ICT applications.
"This is innovation. Being able to come up with something our citizens can rely on and purchase, which are locally produced by our SMEs, and propel our economy by generating cash back into our communities.
Source: Papua New Guinea Government
https://covid19.info.gov.pg/index.php/2020/06/27/marape-assures-financial-support-for-sme-sector-during-pandemic/