The Embassy of China in Solomon Islands has opened
Solomon Islands Prime Minister Sogavare and First Ambassador of the People's Republic of China to Solomon Islands Li Ming jointly opened the People's Republic of China Embassy in Honiara on Monday 21 September.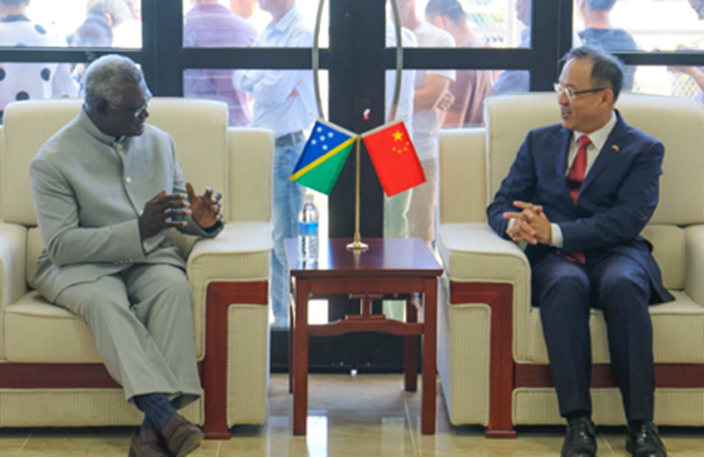 Prime Minister Sogavare and Ambassador Li Ming at the opening ceremony
The event is a milestone achievement that will go down in the history of Solomon Islands, as a sovereign nation. Similarly, this occasion reveals the commitment shown by both countries in an attempt to strengthen bilateral relations, practical cooperation and mutual partnership.
"I have confidence that with the formal opening of this Embassy, it will further craft and deepen the platform for enhancement and the strengthening of development and investment relations between our two countries," Sogavare said.
The Prime Minister assured that the setting up of the Embassy in Honiara is a step forward for the Solomon Islands.
"I believe this partnership will strengthen the people to people diplomacy, commercial relations, facilitate transformative partnerships and enhance stronger bilateral ties between our two countries, and surely open up foreign investment opportunities that can be pursued looking forward," he added.
With Solomon Island's recognition of the One-China Policy and the establishment of Diplomatic ties with China, Mr Sogavare is confident that this relationship will further expand on the practical existence of trade links and the bond of partnerships shared between the Chinese community and the people of Solomon Islands.
---
Prime Minister Manasseh Sogavare has officially welcomed the People's Republic of China's (PRC) Ambassador to Solomon Islands Li Ming on Friday 18 September. 
His Excellency Mr. Li Ming presented his credentials to Sir David Vunagi at the government House to formalize his appointment, as he began his posting in Honiara.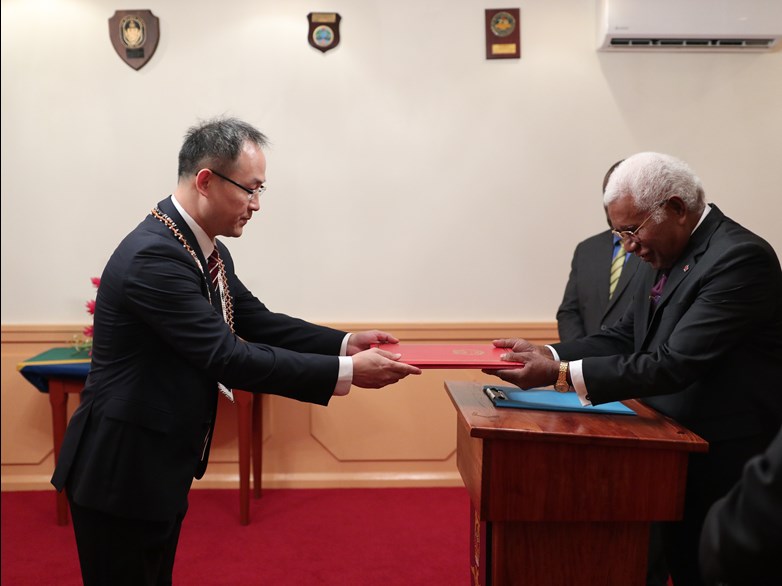 Chinese President Xi Jinping appointed Mr. Li Ming as China's first Ambassador Extraordinary and Plenipotentiary to Solomon Islands with residence in Honiara.
Mr Sogavare in receiving Ambassador Li described the newly established relationship with the Peoples Republic of China as a "blessing to Solomon Islands and its people". "Welcome to Honiara and Solomon Islands Ambassador," said the Prime Minister.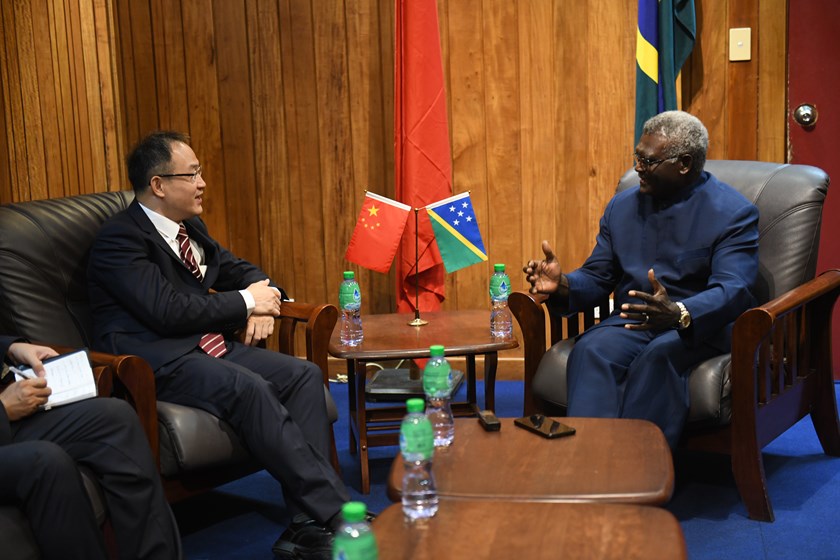 Prime Minister Sogavare also said the Solomon Islands relationship with the People's Republic of China is a demonstration of true and stronger partnership. "It has been an interesting short journey, a couple of days away from our first anniversary," said the Prime Minister.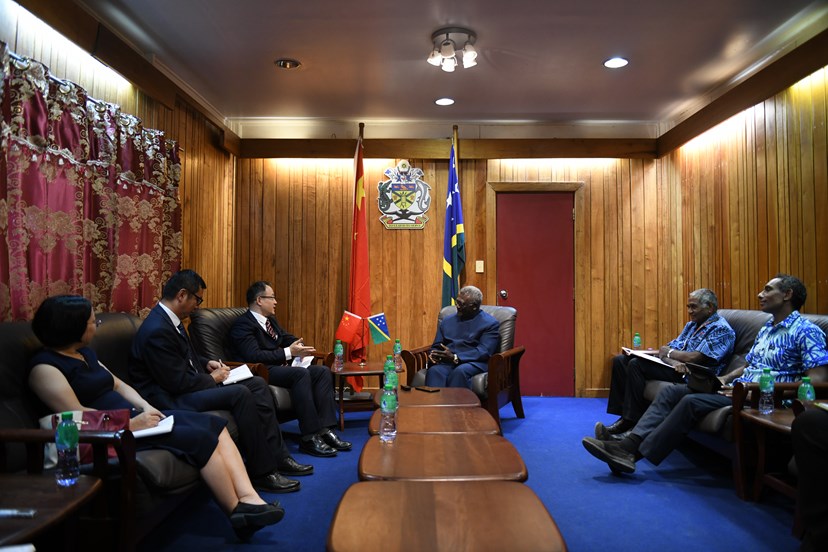 Ambassador Li Ming looked forward to working together with all walks of life of Solomon Islands, in a bid to follow through on consensus reached by leaders of both countries, as well as supporting each other in prevailing over the COVID-19 pandemic. Hopefully, deepened cooperation and cemented friendship between China and Solomon Islands will contribute to a speedy and sustained growth of bilateral relations, and enhance the wellbeing of Chinese and Solomon Islands peoples.
Source: Solomon Islands Government, Embassy of China in Solomon Islands.

https://solomons.gov.sb/sogavare-pays-tribute-to-early-chinese-traders/
Prime Minister Sogavare and Ambassador Li Ming at the opening ceremony
https://solomons.gov.sb/sogavare-pays-tribute-to-early-chinese-traders/
PM Sogavare formally welcomes Ambassador Li Ming to Solomon Islands
https://solomons.gov.sb/pm-sogavare-formally-welcomes-ambassador-li-ming-to-solomon-islands/
Message of Congratulations from H. E. Wang Yi State Councilor and Minister of Foreign Affairs of the People's Republic of China for the Opening of the Embassy of the People's Republic of China in Solomon Islands
http://sb.chineseembassy.org/eng/zgyw_12/t1816543.htm
H.E. Mr. Li Ming, First Ambassador of PRC Accredited to SI arrived in Honiara