PNG seafood exporters gain access to China market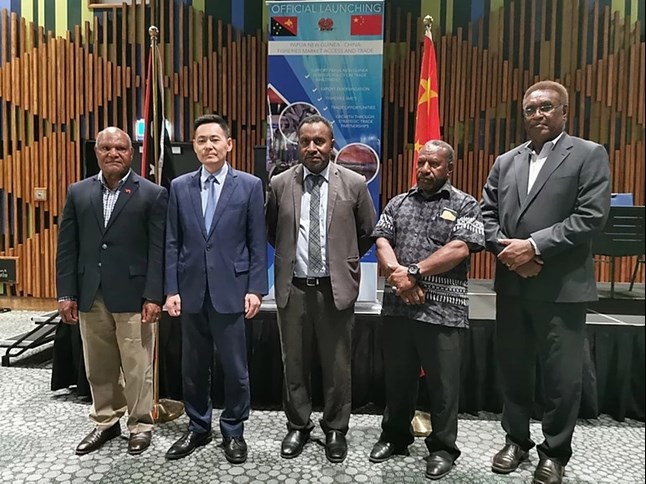 (Picture caption: Minister for Fisheries and Marine Resources of Papua New Guinea (PNG) Lino Tom (C) and Chinese Ambassador to PNG Xue Bing (2nd, L) attend a press conference in Port Moresby, PNG, on June 15, 2020)
Papua New Guinea (PNG) will now be able to access China's lucrative seafood market.
This move follows the completion of market access protocols and processes carried out by the National Fisheries Authority (NFA) and the General Administration Customs of China (GACC) last month.
The protocols now allow the registration of 77 exporters and facilities (including 35 seafood companies, 31 cold storages, nine fishing vessels and two carriers) in PNG to export their seafood products directly to the Chinese market instead of sending via Hong Kong or Singapore for clearance.  
Pacific Trade Invest (PTI) China first came on board this project in 2018 at the request of the PNG Investment Promotions Authority and National Fisheries Authority to help facilitate the technical work between NFA and GACC and as the contact point to GACC on behalf of NFA.
This facilitation role included checks of all documentation to comply with import protocols, reviews of health certification to meet China's biosecurity and quarantine standards and providing translation of all formal documents for GACC's application and registration process.
Acting as the contact point in Beijing on behalf NFA during the technical work over the last year and a half, PTI China has assisted the listing of the 77 fish exporters and facilities on China's approved commodities register for exports.
Papua New Guinea's Minister for Fisheries and Marine Resources Dr Lino Tom says it is a great achievement to have 77 seafood entities officially registered by GACC to directly export to China.  
"This is a milestone for the sector as an accreditation as an approved country by China customs to export seafood directly to mainland China," the Minister says. 
"More PNG companies will be added and registered by GACC when the health certificate for live seafood is submitted and the administrative requirements are satisfied."
Meanwhile, Chinese Ambassador to PNG Xue Bing says the move is an important step for fishery cooperation between China and PNG.
"More and more PNG companies would become suppliers for the Chinese market and more and more high-quality PNG agricultural products would be exported directly to China.
"The China-PNG trade relationship would be further promoted after the COVID-19 pandemic."
Pacific Trade Invest China Trade Commissioner Mona Mato says congratulations must go to the PNG Government and NFA in Port Moresby for the extensive work involved in the market access protocols to meet China's import standards.
"Our facilitative role in partnership with the Fisheries Authority and GACC over the last year and a half has been extremely positive and I am pleased this work now allows a pathway for PNG fish exports to China," the Trade Commissioner says.
"The market access approval also positions PNG well into Asia's lucrative seafood market and it sets the standard for other valued products from the Pacific. 
"Our role at PTI China is to continue to look for those high value market opportunities."
The Beijing-based organisation continues to work closely with the PNG Embassy in China to provide support for market opportunities for trade, investments and tourism between PNG and China, the Trade Commissioner adds.
According to PTI China, there remains significant market demands for fisheries products in China. 
China's import statistics 2019 show the total value of fish and crustaceans, mollusks, and other aquatic invertebrates reached over $US15 billion.
As a country rich in fisheries resources, the opening of the export pathway for PNG will also create business opportunities for its aquaculture industry.