Pacific Products Featured in Chinese Cuisine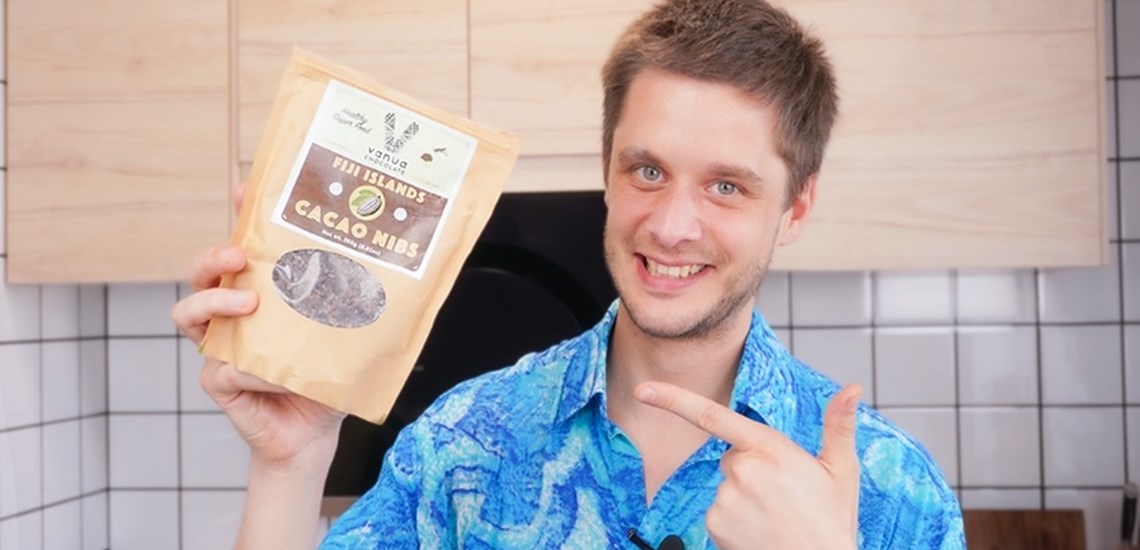 Pacific Trade Invest (PTI) China is exploring creative ways to promote the Pacific Islands in China's thriving food market, as Chinese cuisine continues to embrace the fusion of exotic ingredients from around the world.
The Pacific Kitchen Initiative is a series of demonstrative videos featuring celebrity chef Corentin Delcroix, who introduces Pacific ingredients to his audience before using them to create mouth-watering dishes. These videos are then published across a variety of social media channels, providing PTI China the opportunity to engage directly with consumers as well as providing the audience with the knowledge required to incorporate such ingredients into popular Chinese dishes.
Shanghai-based Chef Delcroix is a well-known influencer, French chef, entrepreneur and food blogger who has been residing in China for over 15 years. Delcroix not only understands Asian cuisine intimately, but is also a fluent speaker of Mandarin, with more than two million followers across his food channels on some of China's major social media networks. In addition, Chef Delcroix holds the Head of Culinary position at the Black Olive Food & Marketing Consulting Company in Shanghai.
The Pacific Kitchen Initiative channel has garnered many social media followers since the video series was released, featuring prominently on China's top social media platforms including WeChat, Weibo, TikTok, Kwai, Bilibili and Red, with a combined reach of over two million viewers across China, and attracting over forty-thousand comments and likes. Many of chef Corentin's followers have also created their own Chinese dishes with Pacific ingredients, and have shared their experiences on social media with increasingly positive reviews.
PTI China's Pacific Kitchen Initiative was inspired by China's growing interest in international cuisine, providing a great opportunity to promote and showcase Pacific ingredients in high-end Chinese dishes. The ongoing trend of fusion style food was what led PTI China to connect with celebrity chef Corentin Delcroix to showcase Pacific ingredients and flavours in Chinese dishes.
Five videos have been produced as part of the promotional campaign, featuring seven different Pacific products: vanilla from Tahiti and Niue, as well as coconut oil, turmeric, ginger, cocoa, beer and rum from Fiji.
The Pacific ingredients featured on the channel are already proving popular, with many positive reviews. In particular, the soy-braised pork belly infused with Pacific vanilla, glazed in Fijian beer and served with Sichuan dan dan noodles has generated many positive reviews, as has the use of Pacific cocoa nibs as a topping.
Mr Mona Mato, Trade Commissioner of PTI China, stated that the Pacific Kitchen Initiative provided an opportunity for Pacific food products and ingredients to be presented in high-end Chinese dishes.
"Products such as vanilla, coconut oil, turmeric and ginger powder are rarely used ingredients in Chinese dishes, so we want to showcase the fullest potential and 'flavours' of our ingredients with consumers, food service industry and buyers, with a view to generating buyer interest and to eventually drive the sales of Pacific products in China," Mr Mato said.
Mr Mato also remarked on the scale of China's food culture, noting that the positioning of Pacific products in this thriving space was of immense importance.
"While China is a complex and competitive market, it is about finding our niche for our Pacific food flavours and working with China's food industry. There is no better platform to do that than with a celebrity chef in China who knows and understands the food trends locally and what Chinese consumers are looking for, as well as the richness and taste of our Pacific food and ingredients."
Please contact info@pacifictradeinvest.org.cn should you be interested in exporting to China's market.